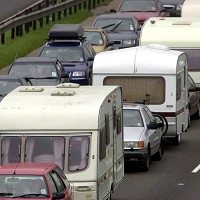 Drivers heading off on holiday have been urged to make sure a crash or breakdown does not hinder their travel plans.
There were 33,303 reported road crashes on the Highways Agency network last year.
In a bid to reduce crashes and the ensuing road closures, the Institute of Advanced Motorists (IAM) and the Highways Agency have issued advice to help motorists make sure they do not have to use their breakdown cover .
They reminded drivers that tailgating - following other vehicles too closely on the motorway - is not a way to speed up your arrival and is likely to lead to a collision.
If a driver is being tailgated, they recommend not accelerating, braking or swerving suddenly as it reduces car control. Instead stay calm and check mirrors frequently.
Drivers are also recommended to use the the left-hand lane on any UK motorway as their "base", using other lanes only for overtaking slower vehicles.
IAM chief executive Simon Best said: "A collision or breakdown on the way to the airport is a sure fire way to get your summer holiday off to a bad start.
"Just a few steps and precautions will ensure you're digging out your swimsuits sooner rather than later."
Copyright Press Association 2013