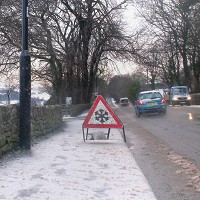 Britain will be hit by a week of snow and freezing temperatures as the country's "yo-yo" weather continues.
A Met Office amber "be prepared" warning applies to an area stretching from Liverpool Bay down to the western side of the Welsh mountains and over to East Yorkshire.
The North West is expected to remain the hardest-hit region, with "thundersnow storms" bringing up to 15cm of snow on Thursday evening.
Forecasters say the cold blast from Iceland and Greenland will cause temperatures to drop to around two or three degrees in northern Britain and four to five degrees in the South.
RAC spokesman Simon Williams said: "This winter's yo-yo style weather continues - relatively mild, wet and blustery one week, cold with snow and ice for some the next.
"The message to drivers is to plan ahead - perform some quick and easy checks on the condition of your vehicle, such as tyres and windscreen wipers, as soon as possible.
"Then, when out on the road, be on your guard, responding to the rapidly changing conditions and adjusting your driving style as necessary."
Friday will see the barometer rising to around seven degrees in southern areas before a new wave of snow will hit the country over the weekend.
Northern Scotland and Northern Ireland will see snowfall on Saturday, with western Wales, East Anglia and south-west England to follow on Sunday.
Copyright Press Association 2015