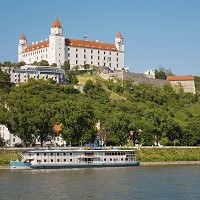 Out-of-control cars and extreme weather failed to put a spanner in the works as six friends drove all the way to Bratislava in a charity motoring challenge.
Jack Bridges, Tilly Cottle, Dave Herrin, Azlee Manley, John Parfitt and Briony Thatcher entered the Bratislava or Bust car rally and drove cars bought for less than £500 more than 1,000 miles from their Somerset homes to the Slovakian city, raising over £12,000 forDementia UK .
Sleeping arrangements ranged from camping and hostels to swanky hotels and the six adventurers had plenty of unforgettable experiences on the way, according to 23-year-old Briony. She made the journey with Dave in a Peugeot 306 they named Percy and told of varying weather conditions, from powerful storms to sweltering 44 degrees heat in Slovenia.
The six called themselves Just Add Cheddar in honour of the county cheese. Theirjourney planner allowed stops in the Austrian capital of Vienna, Venice in Italy and Dachau concentration camp near Munich.
Briony admits there was one scary incident when she was driving Percy on the Stelvio Pass through the Eastern Alps in Italy. They smelled burning rubber and stopped the car to check the tyres but the handbrake wasn't on properly and Percy started to roll, but co-driver Dave managed to jump in and apply the brakes.
Copyright Press Association 2013