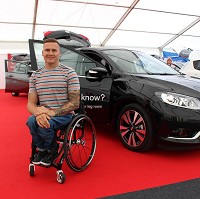 Thousands of drivers have been given a glimpse into the benefits of specially-adapted vehicles at a star-studded roadshow.
Donington Park in Derby's Castle Donington was the setting for the three-day Mobility Roadshow , which this year incorporated Get Going Live!
The latter is specially tailored to new and young disabled motorists who wish to find out more about modified vehicles. Stars such as Paralympians Ben Rowlings and David Weir and television doctor Hilary Jones were among the guests from June 25-27.
Ford, Vauxhall, Nissan and Hyundai were the manufacturers who supplied adapted vehicles for people to test drive.
Displays and seminars, primarily targeted at older motorists, gave a chance to view the most updated safety and convenience technologies. Top tips were also given on how disabled drivers can avoid accidents on an increasingly congested road system.
The successful occasion saw around 4,000 attendees on day one, which was opened by Dr. Jones.
Despite the growing popularity of this event, not everyone spares a thought for disabled drivers, recent research suggests. A Charities Aid Foundation poll found that erroneously taking up parking spaces designated for disabled motorists is one of the country's most loathed habits .
Mobility Choice charity chair Ann Frye says the event staged several product launches and welcomed many international exhibitors and visitors. She said, with Get Going Live! also included in the 2015 event, it was the only time that features pertaining to every age group had been available to visitors.
Ms Frye said the organisers were proud to deliver an event so "diverse" and "rich" in personality.
She called this the "perfect platform" for planning towards 2016 and other future events.
Copyright Press Association 2015