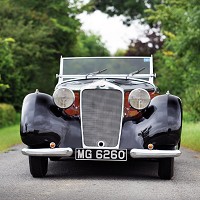 A car bought with one of the first film pay cheques earned by British stage and screen legend Margaret Lockwood is up for auction.
Vintage car buffs and film fans have a chance to own the 1938 Delage D6-70 Tourer when it goes on sale at the Bonhams Beaulieu Sale in Hampshire on Saturday (September 8).
The actress, who was famous for playing on-screen villainesses and died in 1990, bought the striking red and black car from the Delage stand at the 1938 Motor Show.
Lockwood, whose most successful film was Alfred Hitchcock's The Lady Vanishes in which she starred alongside Michael Redgrave in the same year she bought the Delage, was born in Karachi in 1916 and studied for stage at the Italia Conti before making her acting debut in 1928 aged 12.
She began appearing in films in 1934 following theatre roles and further training at London's Royal Academy of Dramatic Art, starring in Lorna Doone in 1935. After playing the title role in 1945's controversial The Wicked Lady, Lockwood was awarded the Daily Mail National Film Awards First Prize for most popular British actress.
Copyright © Press Association 2012.