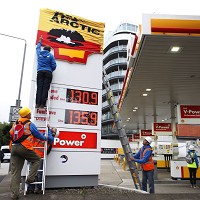 Greenpeace activists are staging a protest at dozens of Shell petrol stations in Edinburgh and London as the company is due to begin drilling for oil in the Arctic.
Their first target was the Shell garage in Edinburgh's Dalry Road, where they tried to scale the roof and stop petrol from going to the pumps.
The group said it was hoping to shut off petrol to at least 12 petrol stations in Edinburgh and around 100 in London.
Greenpeace's Sara Ayech said: "An oil spill in the Arctic would be catastrophic for wildlife such as walruses and whales, and Shell knows full well that it would be impossible to clean up after such devastation.
"The Arctic must be saved, and made a global sanctuary where oil drilling is banned."
A spokesman for Shell said: "Shell has met with numerous organisations and individuals who oppose drilling offshore Alaska. We respect their views and value the dialogue. We have extended this same offer for productive dialogue to Greenpeace."
Copyright Press Association 2012