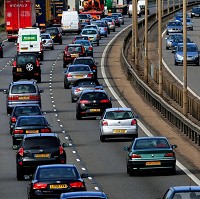 New figures reveal there are as many as 15,000 untaxed and unregistered foreign cars using Britain's road network.
The startling discovery has prompted an RAC call for the Government to begin an immediate crackdown, which needs to start with the establishment of an enhanced data sharing system between major agencies.
Official statistics show around 60,000 vehicles from overseas are added to the Driver and Vehicle Licensing Agency (DVLA) database a year, but those that are not registered are costing the Treasury as much as £3 million in uncollected vehicle excise duty (VED).
Once cars have been in Britain for six months they have to be reported to the DVLA, which charges a £55 fee for initial registrations.
Owners must also make they pay the VED, gain an MOT certificate and in some instances pay VAT, the RAC says.
The UK Border Force has information about every vehicle coming into and going out of Britain that isn't registered in the country, but this isn't being used by the DVLA.
What's more, some cars over three years old are likely to have not had an MOT and will not be covered by car insurance because of this. They could well be in a dangerous condition, risking people's lives.
RAC head of external affairs Pete Williams said: "Given the prevalence of technology such as automatic number plate recognition, it is beyond belief that in the 21st century two important Government agencies - namely the UK Border Force and DVLA - are not already sharing information in a system that allows us to keep track of the comings and goings of non-UK vehicles."
Drivers of unregistered vehicles are also unlikely to be punished if they are caught driving over the speed limit by speed cameras.
Pete Williams continues: "As things stand now, we don't have a clue about the true number of foreign cars in the UK that should be paying Vehicle Excise Duty or how many of them that require MOTs to make sure they are road legal and can be insured.
"What's more, drivers of unregistered foreign cars and vansare escaping speeding fines generated bysafety cameras as there is no easy means of matching foreign number plates to their ownerswho may or may not live hundreds of miles away in another country.
"This is likely to anger the millions of honest UK motorists who play by the rules and pay their way to use the roads. We are effectively relying on the good citizenship of individuals to register their foreign vehicles themselves once they have been here for six months, but there is little encouragement to do so - especially when you consider that driving a car with foreign plates can make it likely you will evade automatically-generated fines for offences like speeding or driving in a bus lane.
"We understand that DVLA, the UK Border Force and the police are looking at how data can be used to identify foreign-registered vehicles that have been in the UK for longer than six months, so we urge the Government to make finding an effective solution a high priority."
Copyright Press Association 2014