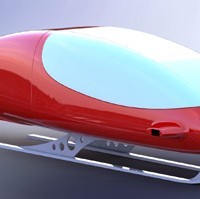 Academics have given Santa's sleigh a makeover to improve its economy and ease the strain placed on Rudolph and co.
The team at the University of Central Lancashire (UCLAN) fitted an aerodynamic carbon-fibre body and aluminium runners on the next-generation sleigh to help it cut through the air more easily and reduce weight.
Changes were also made to the shape and size of the sleigh, which students claim could lessen the load for Santa's reindeer and cut the estimated 32-hour journey time by up to three hours.
High levels of drag were noticed by the UCLAN students. They identified a big area where turbulent air circles around the sleigh and recirculates behind it, making it harder for Santa and his reindeer to move forward.
They realised how inefficient his sleigh is while working on their own ultra-efficient vehicle for next year's Shell Eco-marathon in London, a competition in which teams of engineers build ultra-low fuel consumption vehicles to see who can go the furthest with the least fuel.
The current record is equivalent to 15,000mpg in a petrol engine, set using hydrogen.
Copyright Press Association 2015. Motoring News articles do not reflect the RAC's views unless clearly stated.