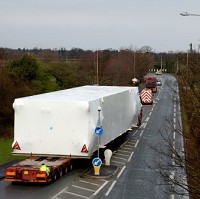 Drivers are set to be hit with delays between Didcot in Oxfordshire and Avonmouth in Bristol this weekend, as a giant transformer is transported along the 80 mile-stretch.
The transformer, that weighs around 640 tonnes and is almost 330ft long, will be transported on a lorry that will be unable to travel faster than 4mph.
"Allelys Heavy Haulage of Studley is transporting transformers from Didcot power station to Avonmouth Docks. The load will take up two lanes on motorways and both lanes of single carriageway stretches of road," a spokesman for Avon and Somerset Police said.
"The loads are almost 100m long and 5m wide, weigh around 640 tonnes and will travel at an average 4mph - walking pace - and even more slowly on uphill stretches."
RAC spokesman Simon Williams said: "While the transportation of this load will be an incredible spectacle, it is also one that motorists will want to avoid if they possibly can. Rarely do we ever see a load taking up two lanes of a motorway and both lanes of a single carriageway road.
"This is the second of three transformers that have to be moved so people should try to remember that the third one is due to be moved next weekend. Clearly, much thought has gone into planning this epic journey so we hope that traffic will not be too badly affected."
The haulage will begin around 7pm on Friday, as the transformer leaves Didcot and will take up both lanes of the southbound carriageway on the A34 all the way to junction 13 of the M4 at Chieveley.
The lorry will then stay at Chieveley overnight on Friday before heading towards junction 18 at 9am on Saturday.
This weekend's haulage marks the second stage of the project that will see three transformers taken from the Didcot power station and send to a Siemens plant in Germany where they will be reused.
The first leg of the removal took place the weekend of 2 and 3 November.
"The provisional dates for the third load to be transported are Saturday 23 November and Sunday 24 November - but this could be subject to change," the force spokesman added.
Copyright Press Association 2013