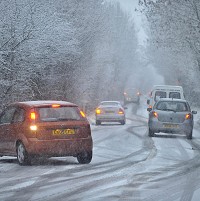 The UK is preparing for plunging temperatures this week and safety charity Brake is recommending motorists adhere to the ABC of cold-weather driving to avoid accidents.
This includes avoiding driving in snow or similarly hazardous conditions, being ready by keeping tabs on weather reports and owning an emergency kit, and employing careful, cautious driving by maintaining the proper distance between vehicles and driving slowly in bad weather. Havingbreakdown insurance is also a good precaution.
A new poll by Brake and Churchill Car Insurance revealed a majority of motorists do not comprehend the hazards of driving in icy, snowy conditions, and too many will begin a journey despite dangerous conditions.
Julie Townsend, Brake deputy chief executive, said: "Every year we support many families whose lives have been torn apart by bad weather crashes, so we're calling on drivers to do everything they can to help avoid tragedies during this cold snap."
Copyright Press Association 2013