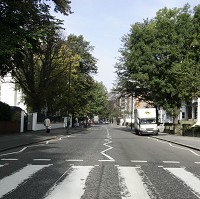 For decades music fans have been flocking to London's Abbey Road with their cameras at the ready to recreate one of pop's most iconic images.
But now road safety fears could result in the zebra crossing featured on the Beatles' 1969 Abbey Road album getting its own lollipop person.
The album cover shows John Lennon, Paul McCartney, George Harrison and Ringo Starr safely crossing a quiet Abbey Road on the zebra crossing.
But 45 years on the music landmark is being visited by a constant stream of tourists and Westminster Council - which covers the St John's Wood area in north London - says that is making it difficult for motorists to safely negotiate the crossing.
The council says tourist buses also often double park or pull over on double yellow lines to enable visitors to take pictures, causing chaos on the busy road.
It says the popularity of the Abbey Road crossing is putting pedestrians' safety at risk, prompting it to consider various options to manage the traffic there.
Councillor Lindsey Hall says while the council is proud of its musical heritage it is looking at the possibility of having someone permanently on site to address safety concerns.
Copyright Press Association 2014