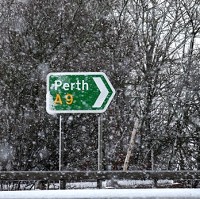 Work to finish dualling the A9 Perth-Inverness road has started at last.
But it means drivers face possible delays, as roadworks are expected to be ongoing for 10 years from September 20.
The SNP first announced the £3 billion road project back in 2007.
Keith Brown, the Infrastructure Secretary, on Thursday opened work on an initial £35 million section of the upgrade. This five-mile stretch linking Kincraig to Dalraddy, serves the ski tourism resort of Aviemore and is expected to be ready in two summers' time.
The new A9 upgrade is among the biggest-ever road projects seen in Scotland and one Mr Brown describes as a "flagship" investment scheme.
It will cost Scottish taxpayers double the amount spent on the expensive Queensferry Crossing project.
Transport Scotland admits that it does not know how the A9 dualling initiative will be funded, apart from the paid-for Kincraig stretch. Policymakers have still to decide how the remaining 11 stretches will be paid for, it said.
One method could be the usual state-funding, the agency says. Another could be private-sector investment, an option currently being employed for the Aberdeen bypass to the tune of £745 million.
But this could extend the scheme's cost past the intended 2025 completed date.
Only around two miles of A9 have been dualled since the SNP promised double lanes on parts of the road, after being elected eight years ago.
The £10.5 million Crubenmore stretch, outside Dalwhinnie, was finished four years ago. But the pressure is on Mr Brown to get the other upgrades progressed more quickly.
He claims 50% of the project should be accomplished in seven years' time. But even if it finds complete funding Transport Scotland cannot guarantee that the A9 dualling will be finished on time.
A major stumbling block is the challenging terrain that will make some parts of the A9 difficult to widen. Designers still have not finished their plans.
Copyright Press Association 2015