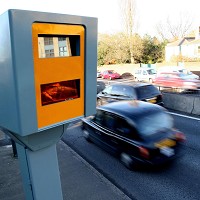 Cameras on a notorious stretch of road in Scotland have helped to reduce the number of drivers breaking the speed limit.
One in three motorists used to break the speed limit when driving on the A9 from Perth to Pitlochry. But since the arrival of average-speed cameras - which haven't even been switched on yet - this number has decreased to just one in 10.
The number of deaths and serious accidents on the single carriageway road is higher than the national average.
Installation of the cameras is one of a number of measures aimed at making the route, which connects central Scotland to the Highlands, safer.
Other measures include turning 80 miles of single carriageway between the two cities into dual by 2025.
The A9 Safety Group is also campaigning to raise awareness of speed limits and encourage drivers to overtake safely on the road.
The new camera system will be tested by engineers before it goes live in October.
Copyright Press Association 2014