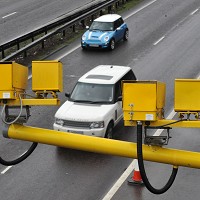 The introduction of new speed cameras on the A9 in Scotland has dramatically reduced the number of motorists speeding.
Around a third of drivers drove over the limit before the cameras were installed - now just one in 20 do it - Police Scotland says.
In the last three months there has been a 97% reduction in the number of motorists found to be driving 10mph faster than the speed limit on one stretch of the route from Perth to Inverness, the force reports.
The cameras, which went online at the end of October last year, measure the average speed of drivers over a distance and cost £3 million to install.
So far police have taken action over 298 cases of speeding, which works out at around four every day. This compares to 2,493 such cases in the same time frame in 2013/14.
The Liberal Democrat Highland MP Danny Alexander said the cameras where a "knee-jerk" response and he would prefer a planned dual-ling of the road to be brought forward. It is not due to be completed until 2025.
But Police Scotland's head of road policing Chief Superintendent Iain Murray says the statistics are encouraging. He says they are changing the way people drive on the A9 and making it safer.
Copyright Press Association 2015