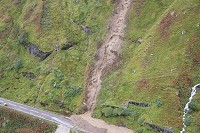 Road maintenance chiefs are uncertain about when the reopening of a major tourist route west of Loch Lomond will be possible.
Part of the A83 spanning 11 miles was shut on Wednesday after around 800 tonnes of rock and mud tumbled down the hill at the Rest And Be Thankful, just west of Loch Lomond.
Vehicles were directed to a 55-mile detour after the road was shut in both directions between the A814 at Arrochar and the A815 turn-off near Argyll's Cairndow.
About 730 tonnes of debris has been removed by 17 lorries, with around 10% left to be taken away.
Scotland TranServ, the road maintenance firm cleaning up the area, said the road would not be reopened until experts said there was no risk of another landslide.
Scotland TranServ spokesman Cathel Macaskill said: "Huge inroads have been made in the removal of the debris, however the experts have to assess the hillside and whether there is a possibility of a reoccurrence.
"It really hinges on that as to when the road will be open again. The overriding factor has to be the safety of the people who use the road."
The road was closed for several weeks in 2007 due to a landslide in around the same area.
Copyright © Press Association 2009