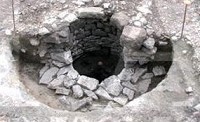 The Highways Agency has said it has unearthed a Roman well, possibly dating back to the second century AD, while carrying out roadworks in Nottinghamshire.
The well, made of sandstone, was discovered near Bingham where the agency is widening a 17-mile stretch of the A46 into a dual carriageway.
According to a local historical society the structure could be part of the Roman town of Margidunum.
The Bingham Heritage Trails Association wants the top layer of the well removed and displayed as a sign of Bingham's Roman heritage.
Its chairman Peter Allen said: "The top metre of stone work will be destroyed during the road-building process.
"We want to remove it and put it in a public place in Bingham. At the moment, none of Bingham's Roman heritage is visible."
The find is not expected to stall the motorway expansion plan. A spokeswoman for the Highways Agency said: "Approval is needed from English Heritage and Nottinghamshire County Council before any further discussions can take place about removing the well."
Copyright © Press Association 2009