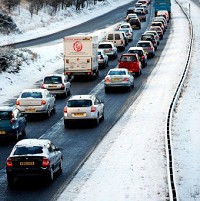 Two contractors have won a multi-million pound contract to carry out improvements that will cut congestion and speed up journeys for motorists using the A19.
Work on the A19's junction with the A1058 in North Tyneside is set to begin next year with an expected finish date of mid-2018.
Lagan Construction Group and John Sisk & Son have been appointed by Highways England to carry out the £40 million project.
It will see the A19 being put in an open cut underpass and the junction turned into a three-level interchange. It will also include the construction of two shared use bridges - for cyclists and pedestrians - above the slip roads leading on and off the A1058.
Thousands of motorists use the A19 every day, many of them doing so to reach the Tyne Tunnel trading estate, South East Northumberland, the Cobalt business park and the Silverlink retail park.
Darlene Proctor, assistant project manager at Highways England, says the improvements will cut congestion, improve road safety and reduce drivers' journey times.
Copyright Press Association 2015