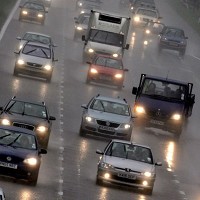 The cost of fuel and increasingly congested roads have led to one in every three motorists declaring they no longer enjoy driving, according to a road safety charity's latest survey.
Around half of those asked are fed up with paying so much for petrol and diesel (51%) while two-fifths struggle to contend with the amount of traffic clogging the roads (41%).
Just over a quarter say that being behind the wheel no longer excites them (28%) and almost the same proportion say that driving takes away too much of their leisure time (25.9%).
The Institute of Advanced Motorists' poll also suggests that two in five drivers have fun in their vehicle and still regard motoring as a hobby, with a third of respondents stating that they still take their car out just for a spin.
RAC head of external affairs Pete Williams said: "Sadly for many much of the joy has been knocked out of motoring by the shear cost of fuel and that is only compounded by gridlocked and pothole-ridden roads."
"The RAC'sReport on Motoring 2013 found that while 89% of drivers are more reliant on their cars than they were 25 years ago, 61% say the increased cost of motoring is the biggest change they have seen during this time and over 14% say they have had to curtail their social lives due to rising fuel costs.
"We would like to see the joy of motoring return in the not too distant future, but sadly this seems inextricably linked to the price we pay at the pump."
IAM chief executive, Simon Best, said: "With congestion and fuel prices, it's easy to understand why many people think driving is a chore. But the UK still has some of the most beautiful roads in the world and if you have the right skills and confidence in your ability, driving can be as enjoyable as ever."
Copyright © Press Association 2013