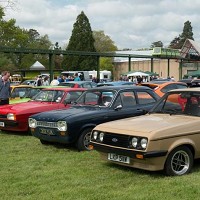 Ford owners everywhere are being invited to congregate in the New Forest this spring for a celebration of the iconic brand.
The Simply Ford show returns to the National Motor Museum at Beaulieu on Sunday, May 3.
Ford drivers will meet like-minded enthusiasts, whether their model of choice is a modern Mondeo, before-the-war Model Y or a classic Capri.
The company's Transit van, which marks its 50th birthday this year, is expected to feature prominently. Among the Transits on show will be the much-loved V8-fuelled "Supervan" and the first ever Transit to roll off the production line.
The model named the favourite Ford will also be announced, as voted for by attendees.
Andy Ollerenshaw, Events Co-ordinator, said the show already promises to be the best and biggest so far.
Tickets, priced £10 for adults and £5 children, can be booked at via the Beaulieu shop website.
Copyright Press Association 2015
https://www.beaulieushop.co.uk/Shop/Events/EventTickets?eventCategoryCode=071&_ga=1.17688314.232059378.1372256410 (Beaulieu shop)