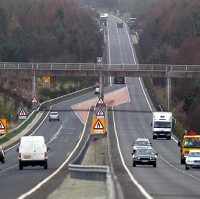 Motorists will be able to drive on new, faster-moving "mini motorways" by the end of the decade.
Drivers using 18 major main roads will enjoy the benefits of European-style expressways - with a further seven in the pipeline.
The RAC says the new style roads could "transform" some of our most frustrating roads, but insists drivers will need assurances over exactly where funding will come from.
The fresh classification of road will fall between a motorway and an A-road. The newly-created Highways England, which becomes the Highway Agency's successor on April 1, is behind the upgrade.
The expressways' benefits include faster cleared-up accidents via new technology; fewer jams; modernised junctions; maintenance and emergency areas and no traffic lights or roundabouts.
They will also see a possible ban on tractors and bicycles, as well as roadside wifi provision to offer drivers traffic alerts.
RAC spokesman Simon Williams said: "The provision for new expressway schemes has the potential to transform some of the country's most congested and frustrating roads, including the A14 in Cambridgeshire and A303 through Hampshire and Devon. However, motorists will want to know such multi-billion pound projects have been fully budgeted for if they are to believe that they will become a reality, rather than just an empty promise.
"The devil of the new proposals will be in the detail - what rules will apply to these new types of highway? And how will they be designed in a way that is safe for motorists? A clear national standard on their operation will need to be looked at.
"Motorists will be hoping that the arrival of Highways England and the renewed focus on, and publicity of, the country's strategic road network heralds a new era for improving our major routes. The additional accountability promised by the creation of a state-owned company should deliver improvements quicker and at a lower cost to the taxpayer, but only time will tell."
Motorists already use such roads in Bulgaria, the Netherlands and Italy.
The Times newspaper revealed that approach roads to the M3 linking Hampshire to Devon's Exeter (the A30 and A303) are among those earmarked for upgrade.
Others include the A14 linking Huntingdon and Cambridge and the A1 above Newcastle.
The A2 linking south-east London with Kent, the A3 below Guildford and the A27 on England's south-coast are on the list too.
In addition, the A38 linking Exeter to Cornwall's Camborne and the Cheshire's A556 are in the mix.
Copyright Press Association 2015