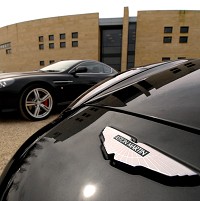 Fans of luxury sports cars hell bent on attending the Bonhams auction at Aston Martin's historic home this weekend are in for a treat.
Newport Pagnell in Buckinghamshire may not be rolling out the manufacturer's iconic models any more, but the May 19 sale will see 50 of its most stunning creations return to the motherland.
Three in particular have showbiz backgrounds, with one fitted out with skis to meet James Bond's super-spy requirements and another whose owner was Lennox Lewis when he won the title of the World Heavyweight Boxing Champion.
Lewis' former ride, lot 227, is a 1994 Aston Martin Virage Limited Edition CoupŽ which is predicted to go under the hammer for £15,000 - 20,000.
The third is considered a unique creation valued at £1.2 million - £1.5 million. It is lot 239, a 1991 Aston Martin DB4GT Zagato Sanction II CoupŽ which used to be owned by Tony Smith, manager of rock singer Phil Collins.
Mr Smith was the first owner of Chassis number '0198/R' and the historic racer is renowned to have bought some of the best cars the world has seen. Car insurance for luxury motors such as these can be pricey but for many fans it may well be worth the cost.
Copyright Press Association 2012