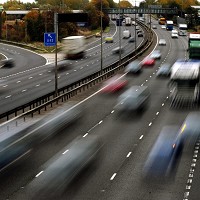 As many as 3,000 lives were saved last year as road deaths across Europe fell to the lowest level since records began.
The latest figures show the number of road deaths fell by 9% in 2012, with the UK figure lower than anywhere else in the EU apart from Malta.
EU transport commissioner Siim Kallas hailed 2012 as a "landmark" year on the way to reaching a target of halving road deaths by 2020 compared with 2010.
Although he said it was hugely encouraging to see such results, he warned there is no room for complacency as 75 people still die on Europe's roads every day.
Despite the fall in road deaths, the number of fatalities varies greatly across the continent. For instance, there are 26 fatalities per million inhabitants in Malta, compared to 28 in the UK.
On the other hand, this figure rises to 73 per million in Belgium, 93 in Poland and 100 in Lithuania
Mr Kallas also pointed out that road deaths are just the tip of the iceberg.
"For every death on Europe's roads there are 10 serious injuries such as damage to the brain or spinal cord," he said.
"We need a strategy to bring down the number of serious road injuries everywhere in the EU."
With accidents still prevalent it is important to ensure you have car insurance and breakdown cover.
Copyright Press Association 2013