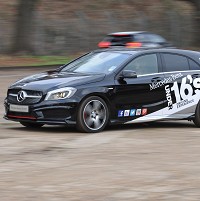 Up to 1,000 lucky young motorists of the future will get the chance to take a new Mercedes-Benz A-Class for a spin at Silverstone.
And with no age restriction or requirement to have a driving licence in place some of the lucky winners could be under 16 and won't even have a car insurance policy.
Entrants need to be at least 1.5m tall and will be accompanied in a dual-control car by a professional Mercedes-Benz Driving Academy coach.
Mercedes-Benz Cars' commercial operations director Andrew Mallery said: "It's a fantastic opportunity for under-16s and their families to find out for themselves what's on offer at the Mercedes-Benz Driving Experience Centre at Silverstone Circuit. With dual controls and a professional driving coach in the passenger seat, it's a safe and fun way for young drivers to get behind the wheel in the stylish new A-Class."
Successful entrants aged over 16 and nearing the legal driving range can take part in a half-hour HeadStart session aimed at preparing them for public roads by nurturing key skills in a safe setting.
Copyright Press Association 2013