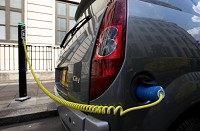 Plans to create an all-electric, affordable urban car have been announced in a £9 million project part funded by the Government's Technology Strategy Board.
The initiative will create four prototypes of the T27, the brainchild of Derbyshire-based Zytek Automotive Technology and Surrey-based company Gordon Murray Design.
The project, which is expected to see the prototypes created by Spring 2011, was backed by the Government's Technology Strategy Board to the tune of £4.5 million.
Science and innovation minister Lord Drayson said: "The T.27 is a great example of smart engineering and sustainable design. It's timely too, as the UK must demonstrate its readiness to exploit the emerging low-carbon vehicles market.
"The challenge is far greater than simply meeting stricter EU emissions targets. We need to expand our car industry through green innovation."
The T.27 is a sustainable vehicle, meaning it will be designed in a way that minimises the use of materials and keeps the embedded carbon of the vehicle as low as possible.
Gordon Murray, chief executive and technical director of Gordon Murray Design, said: "The T.27 programme is a great opportunity for us and our partners to create what will be the world's most efficient electric vehicle.
Copyright © Press Association 2009