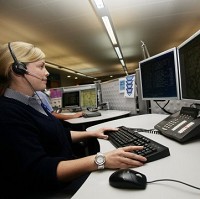 Police have released an audio recording of a 999 call from a learner driver asking for "emergency" police help during a row with his instructor.
You can hear the two-minute call, made just after 8am last Thursday (July 11), by visitinghttp://www.west-midlands.police.uk/latest-news/press-release.asp?ID=4943 .
West Midlands Police has released it to spotlight the importance of using 999 to report genuine emergencies only.
The learner rang the emergency hotline to say that his instructor had arrived minutes late for their session, leading to abreakdown in communications between them.
The caller said: "I've got an emergency ... the person who's supposed to be teaching me came late and now she's asking me to get out of her car. She's saying I'm giving her attitude ... please come over. I need someone to complain to. Who should I complain to?"
The call handler is heard recommending that the learner speaks to the instructor's bosses or the organisation that regulates driving instructors before emphasising the importance of only using 999 to report genuine emergencies.
Chief inspector Sally Holmes called such calls "astonishing", saying they divert police resources from people in genuine need of genuine help.
Copyright © Press Association 2013