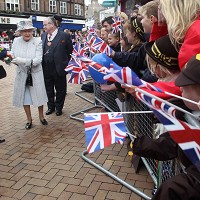 New data has revealed that councils across England and Wales have received almost 9,500 applications to close roads for street parties to celebrate the Queen's Diamond Jubilee.
The statistic comes from the Local Government Association (LGA), which also revealed that the number is nearly double the 5,500 applications for last year's royal wedding.
The LGA also said that a lot of local authorities have waived road closure fees and even offered cash grants and given out party packs in some ces to help achieve the best possible celebrations, commenting that the tradition of street parties has been "well and truly resurrected".
Tens of thousands of events will also take place in parks, pubs, village greens, schools, care homes, cul-de-sacs, gardens and town squares and thebreakdown of figures shows that the Home Counties appear to be most patriotic.
Hertfordshire leads by some distance with 451 applications for street parties, with 419 in Surrey, 316 in Hampshire and 306 in Kent as the geographical distribution of parties seems fairly similar to when the royal wedding occurred last year.
There have been close to 2,000 applications in London, by far the most among cities in the UK, with 91 applications in Bristol, 72 in Leeds and 71 in Birmingham, again broadly similar to the spread of street parties last year.
Copyright Press Association 2012