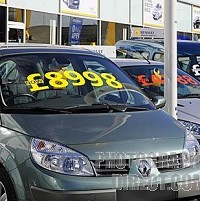 An average of £939 was haggled off car prices from dealers in the third quarter, according to a survey by Auto Trader.
The findings of the study show to what extent the market is biased towards buyers, as three-fifths of drivers paid under the asking price for a new or used car between July and September, said the Auto Trader Owners Guide.
With the continuing economic downturn, hard-pressed motorists will be glad to hear about the chance of lower prices so their budget can cover the necessities of motoring, particularly when it comes to seeking out the best car insurance premiums.
The guide's report found men to be better at negotiating on prices, saving £1,029 on average compared with female buyers at £706.
Dealers who just use trade-plus pricing to determine the selling price will see gross profit potential badly compromised, warned Tim Peake, group strategy director at Trader Media Group.
"You have to work back from what the consumer market is prepared to pay, and minus your costs/margins from this start point," said Mr Peake.
The Auto Trader Retail Price Index showed a £254 rise in the average asking price of used cars in September, and asking prices for that month rose 2.9% from August to £8,914.
This increase marked the first year-on-year rise since April. Asking prices increased by 2% (£179) compared with September last year.
Copyright Press Association 2012