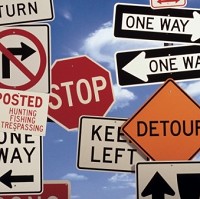 More than 9,000 traffic signs have been removed from roads in the UK in a bid to reduce clutter.
The Department for Transport (DfT) instigated the move, and is urging local authorities to remove signs that are damaged or no longer required.
In London alone, 8,000 repeater signs and 4,000 poles installed in the early 1990s have been taken down. A further 1,000 have been removed in Somerset.
"There are too many unnecessary signs blotting the landscapes of our towns and cities," said Transport Secretary Patrick McLoughlin.
"That is why I have published new guidance to help local authorities make old, confusing and ugly signs a thing of the past."
The DfT is currently revising the Traffic Signs Regulations and General Directions legislation, which came into effect in 2002.
In the meantime, it has issued a Reducing Sign Clutter document providing advice for local authorities on how to cost-effectively remove unnecessary signage.
Copyright Press Association 2013