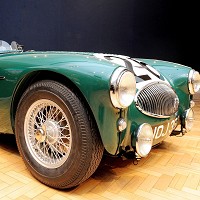 An Austin-Healey car that fetched a record £843,000 at auction has been put on display in London.
That astonishing sale price - just imagine the car insurance premiums! - was paid by a European collector and committed Austin-Healey enthusiast in December 2011.
Auctioneers Bonhams showcased the 1953-made car after a painstaking restoration in Australia that took several months returned it to its former glory.
People around the UK will be able to see the car, number plated NOJ 393, at various events over the coming months.
And they will certainly be sampling a key piece of motor racing history, as the car raced in the 1953 Le Mans event as well as the tragic 1955 Le Mans race.
Tragedy struck at the 1955 event when a Mercedes 300SLR, driven by Pierre Levegh, went into the back of the British car, causing the Mercedes to become airborne and break up, the debris hurtling into a packed section of crowd killing 80 people and injuring more than 120 others.
The Austin-Healey was damaged but is driver Lance Macklin survived the incident without serious injury.
In the period between 1969 to 2011 the car remained untouched before owner Jack Scott offered it for auction, with Steve Pike of Marsh Classic Restorations in Australia then leading the restoration effort.
Copyright © Press Association 2013