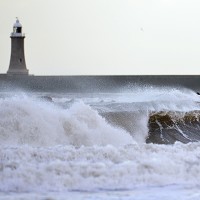 Drivers and other travellers face problems around the UK this week with storms set to bring winds as high as 80mph in some coastal parts of the south and west.
Heavy rain is also predicted by the Met Office which warns of rail and road traffic disruption and has issued a severe weather warning.
With the grim weather for the week, motorists should check theirbreakdown cover is bang up to date to cover against the worst eventualities. Atlantic depressions bring the risk of more flooding in some parts with the threat of power supplies and transport being disrupted, said Will Lang, chief meteorologist at the Met Office.
There have been 54 flood alerts issued, mainly in the South East, the South West and the Midlands, by the Environment Agency which warned of rain causing river and surface water flooding in many parts of these regions.
The agency added that the Dorset coastline is likely to be the subject of severe flood warnings which signify a danger to life.
Southern England could see more heavy rain on Thursday night although there is doubt whether this low pressure area will reach the UK, said Mr Lang, who advised everyone to monitor Met Office forecasts and National Severe Weather Warnings, as the weather could worsen.
Copyright Press Association 2014