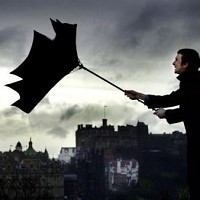 Motorists have been warned to expect gusts of up to 80mph on Tuesday evening.
Meteorologists predict a "weather bomb" - or rapid cyclogenesis - will hit the UK; bringing serious gales through Northern England, Northern Ireland, Scotland and Wales.
This so-called "bomb" is when a system of extensive low pressure accumulates, with one about to travel slowly eastwards from Scotland to Iceland.
High winds in Scotland will bring uncommonly high waves, making driving potentially hazardous due to over-topping, spray and the danger of coastal road flooding.
Storms will batter northern areas of Britain, prompting yellow weather warnings until Thursday morning.
Kirk Waite, a weather forecaster, said exposed regions could see gusts of up to between 70 and 80mph and possible blizzards in Scotland.
This wintry weather won't end there, however, forecasters warn. Drivers can expect a second winter episode on Friday with a further wave of storms developing across south-west England.
RAC spokesperson Simon Williams said: "Drivers are going to need to take extra care over the next few days. A combination of particularly wintry weather in the north of the UK and wet and very windy weather further south is likely to lead to some tricky driving conditions. We can't rule out some disruption, so motorists should allow plenty of time for their journeys.
"Before setting out, make sure your car is in good condition - check things like the wiper blades and make sure the screenwash is fully topped up. When out on the road, ensure your speed is right for the conditions and be extra vigilant on exposed stretches, where the strong winds are most likely to be felt."
Copyright Press Association 2014