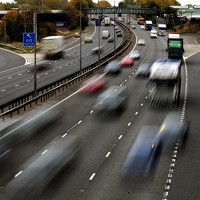 Plans to up the motorway speed limit to 80mph could yet be re-examined, a transport minister has hinted.
Stephen Hammond said ministers are divided on the proposals, which were unveiled in 2011 only to be scrapped in the summer.
Polls suggest that such a limit would be popular among drivers.
Opponents, however, claim it would lead to another 25 road deaths and 100 serious injuries each year and cost taxpayers an additional £1 billion in petrol, health and other costs.
Higher speeds can sometimes also lead to a higher likelihood of engine problems and vehicle breakdown .
Mr Hammond, talking at a fringe meeting at the Conservative Party conference in Manchester, said he could "only guess" why the scheme was axed.
He told members that the party has not stopped work on it, but it is no longer a priority.
Mr Hammond added: "Given that a lot of people travel at 80 miles per hour and we could enforce 80 miles per hour, at some stage we will want to come back and look at it."
Asked if he ever drove at 80mph, he laughed and paused for some time before going on to the next question.
Copyright © Press Association 2013