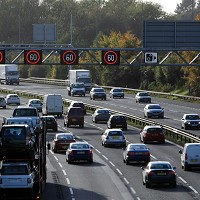 Plans to introduce a speed limit of 80mph on UK motorways could cost the economy as much as £1 billion each year, research suggests.
While the proposals could potentially raise people's car insurance premiums, groups including Brake, the Campaign for Better Transport and Greenpeace have also suggested that the plans could add £766 million in fuel bills and more than £62 million in health costs to the nation's bill.
Some 25 extra deaths and 100 serious injuries a year could also be caused by the higher speed limit proposals, it is feared.
The Government is due to consult soon on raising the speed limit from 70mph to 80mph on English and Welsh motorways.
Brake deputy chief executive Julie Townsend said: "Experts predict it would lead to more lives being brutally cut short and more people suffering debilitating injuries.
"At the same time, the economic argument being used to defend the proposal does not stand up to scrutiny and the average driver will gain little to nothing in journey time savings."
Copyright Press Association 2012