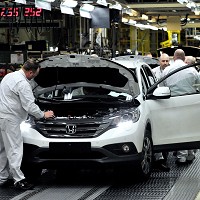 Japanese car giant Honda has announced that 800 positions are to go at its Swindon factory, the first time it has had to cut jobs since it began making vehicles in the UK in 1992.
The firm is blaming low demand in Spain, Italy and Greece and other areas of Europe for the decision, and the 3,500 workers at the plant were informed of the statutory 90-day notice of consultation on Friday.
Honda said it would try to avoid any compulsory redundancies.
Demand for the maker's cars fell by a million in 2012 and the executive vice president of Honda Motor Europe, Ken Keir, said it needed to realign its structure.
He said Honda of the UK Manufacturing (HUM) was starting formal consultations with staff over changes and the proposal to reduce its workforce by 800 by spring 2013.
Mr Keir said the firm was "fully committed" to its UK and European operations, but difficult decisions had to be made due to the continued slump in demand.
"We are setting the business constitution at the right level to ensure long-term stability and security," he said.
Copyright Press Association 2013