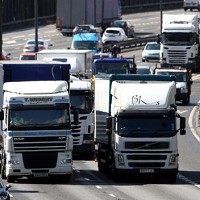 Police have taken action against scores of nosy drivers who took photographs of a lorry fire incident on a bustling motorway.
Warwickshire officers have just released tweeted details of the incident on June 6. This resulted in the prosecution of 80 northbound-travelling drivers.
The blaze occurred on the M6 next to Birmingham, adjacent to junction 3A, at around 10am following an accident.
Rubber-necking drivers face fines of £100 or having to contest the allegation in court. The ghoulish practice can even impact on a motorist's car insurance premium, since they can face three points being put on their driving licence.
The gawping suspects were sent letters from police saying they had been spotted taking photographs of the blaze.
Warwickshire Police tweeted on Thursday to confirm that they had prosecuted 80 drivers for using their phones to take pictures of the scene after a severe road traffic accident.
Copyright Press Association 2014