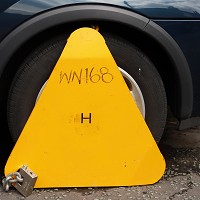 The number of vehicles being clamped has shot up since the paper tax disc was replaced with an electronic system.
Official figures show 9,778 vehicles were clamped by the DVLA in October, up from 5,806 during the same month last year.
"Nearly 70% more motorists were clamped this October than in October 2014, the month when the tax disc was abolished," says RAC spokesman Simon Williams.
"Understandably, since this time the DVLA has been doing everything in its power to send a message to motorists that road tax evaders will get caught, but as we pointed out on 26 November car tax evasion is up, which suggests something serious is wrong.
"We clearly need to know how much of this is attributable to confusion about the new system and how much is due motorists actively trying to avoid paying what they owe."
A network of cameras linked to an electronic database is now used to work out which vehicles are being driven illegally.
Clamped motorists have to pay a daily charge and a release fee, which can add up to hundreds of pounds.
Copyright Press Association 2015. Motoring News articles do not reflect the RAC's views unless clearly stated.