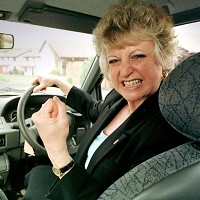 British drivers can be broken down into seven different types, according to new academic research.
The London School of Economics and Political Science has identified the following motoring personas in conjunction with Goodyear Tyres: Competitor, Escapee, Avoider, Punisher, Teacher, Philosopher and Know-It-All.
Each behavioural group will react to various traffic scenarios in different ways which dictate the group they fall into, the School suggests.
The Competitor frequently puts their foot down on the accelerator, and may also narrow down the space between them and the next vehicle to stop another motorist getting into that gap.
The Escapee sees a motor as a means of transporting them away from the here and now. This also the driver type most likely to push up the illegal phone-driving figures , the experts claim.
An Avoider is deemed to be a cool customer, taking nothing to heart and just viewing fellow motorists as mere pitfalls which they should avoid.
But it may be wise to avoid the Punisher even more than the Competitor, as they are prone to bouts of road rage.
Teachers, meanwhile, think they have to educate other motorists on their mistakes and even look for signs of recognition, acknowledging their tutorship.
Philosophers adopt a laid-back attitude behind the wheel, while the Know-It-All is never wrong and is not beyond shouting at other motorists
Research project leader Chris Tennant says there's a lot of fluidity between these genres, dependant on which scenario is being played out.
Dr. Tennant says the majority of drivers find that many of these seven behavioural types can manifest themselves in the same person.
The social psychologist adds that sudden engagement with fellow motorists can make the roads "uncertain" and "challenging" social environments.
Drivers construct personalities that they do not like and, while some concern themselves with others' motoring, the study indicates that how car owners behave is interdependent, he says.
Dr. Tennant goes on that psychologically, these seven separate personality types represent different releases that motorists employ to handle their strong feelings and frustrations on the roads.
Copyright Press Association 2015