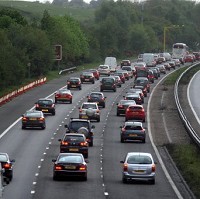 Plans to lower the speed limit to 60mph on a section of the M3 have been revealed.
The Highways Agency (HA) proposal concerns a three-mile section of the motorway between junction 3 at Lightwater in Surrey and junction 4 near Farnborough in Hampshire.
It is proposed that the 60mph limit, which has now gone out to consultation, would operate between 7am and 7pm each day in order to meet air quality requirements.
The plan is part of a broader £174m scheme to upgrade a 13.4-mile stretch of the M3, including additional lanes, which the HA says will produce "more reliable and free-flowing journeys and save time going in and out of London".
Roads Minister Robert Goodwill said the M3 suffers from heavy congestion and the smart motorway scheme "will help improve journey times by smoothing traffic flow".
The HA last month announced a similar proposal on air quality grounds for a 60mph limit on a 32-mile stretch of the M1 between junction 28 near Matlock to junction 35a, north of Rotherham.
Motoring organisations have expressed concerns over the latest plans, with RAC technical director David Bizley saying: "The M3 plan invites the question as to whether any of the eight other planned all-lane running, smart motorway schemes which the Government have heavily invested in will also need to have reduced speed limits put in place to protect air quality."
Copyright Press Association 2014