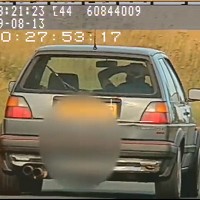 A man filmed driving along a busy road at 60mph with both hands on his head has been handed a 12-month road ban.
A police camera caught 36-year-old Richard Newton driving along the A171 near Scaling Dam reservoir in North Yorkshire for 25 seconds with no hands on the steering wheel last summer.
Officers said a number of other vehicles had passed him on the opposite side of the road at about 6.20pm on August 9.
Newton, of Whitby in North Yorkshire, was convicted of dangerous driving at Scarborough Magistrates' Court. As well as the driving ban Newton was fined a total of £685 and ordered to do 100 hours of unpaid work.
Dave Brown, of North Yorkshire Police's mobile safety camera team, said: "This case demonstrates two things, one is the sheer stupidity of some people who put others in danger, and the other is the ability of our safety camera to capture a range of offences.
"This is yet another case which shows that these cameras are about safety and not just speeding. We will take action against all manner of offences to ensure we keep our roads as safe as possible for everyone."
Copyright Press Association 2014