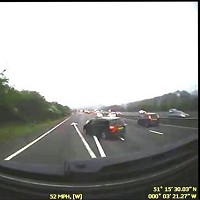 Up to 60% of whiplash claims made each year in Britain could be bogus, according to insurance experts.
The figures, relating to 550,000 claims, were released after footage emerged of a false claim incident in which a driver deliberately collided with a lorry on a motorway.
The video shows a Ford Galaxy swerve across three lanes of the M25 into the side of the lorry.
The occupants of the car all blamed the lorry driver for the crash and made a claim of £75,000 for damages based on injuries sustained in the collision.
The scammers were foiled after it turned out that the lorry driver had special accident monitoring system fitted to the dashboard.
The system monitored the position of the vehicle, the view of the road ahead, speed, breaking and impact G-forces - all which proved that the lorry driver had not caused the crash.
Drivers should make sure that they have comprehensive insurance coverage to ensure that not only are they covered in the event of an accident, that they are able to make a claim to repair their car if they are a victim of this sort of reckless behaviour.
Copyright Press Association 2013