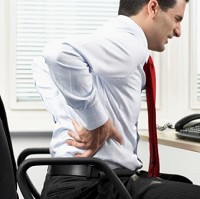 Drivers are being offered a 6-point plan to ease their back pain during long, sedentary commutes to and from work.
The British Chiropractic Association (BCA) has issued the advice after urging motorists to consider their backs when driving.
Motorists who sit for long spells without moving risk one of the most common causes of back and neck pain.
To combat this, the BCA recommends drivers engage in physical activity when in a traffic jam and drive in a relaxed position to reduce the stress on their spine.
Motorists should allow their feet to drop naturally onto their pedals and sit up correctly in their seat, the BCA urges.
They should also adjust the position of their mirrors to bring maximum contort before they set off, or they can even leave their vehicle at home if possible.
The PCA says this can result in pain-free commuting because joints and muscles are not designed to be sedentary. Cycling and walking, conversely, will help them to better their posture, circulation and muscle tone.
The research, published on Tuesday, shows that nearly half of all people have a daily sedentary commute every day.
It finds that around one in 7 respondents (14%) take anything from between 30 to 60 minutes commuting in their cars.
To add to their sedentary lifestyles, nearly half of people (44%) who said that cars are their main mode of transport to work claim that they then spend the majority of their time sitting in the office.
Only last year official figures from the Office of National Statistics showed that commuters who travel from between 60 and 90 minutes a day to work are the most miserable .
Encouragingly, the new study shows that nearly 1 in 5 commuters (18%) spend most of their work-bound journeys walking and some even opt to run there.
Drivers may notice big differences from just minor adjustments, according to Rishi Loatey, a BCA chiropractor. This can even amount to something as small as re-adjusting a wheel that may be too far away and high, causing the accumulation of tension in drivers' upper back and shoulders.
Loatey says this could be "really important" since the number of back and neck pain sufferers has increased by nearly 10% over the past year alone.
Copyright Press Association 2015