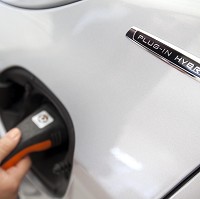 Sales of electric cars across the European Union rose to 50,000 last year, figures show.
This is an increase on the 22,000 sold in 2012, the Transport & Environment (T&E) campaign group said.
The rise has been helped by three 'green' models in particular - Renault's Zoe, Mitsubishi's Outlander and Volvo's V60. Collectively, around 24,000 of these models were sold.
The Zoe costs from £14,000; the Outlander £28,250 after the V60 plug-in is priced from £44,275 - each after a £5,000 Government subsidy is taken into account.
But despite the rise in sales of zero-emission vehicles, traditional petrol and diesel models are still resoundingly more popular; environmentally-friendly versions only account for one in every 250 new cars sold.
Greg Archer, of T&E, says that despite the strong growth, electric cars are deemed too expensive for the average motorists.
He anticipates that as prices reduce over time, plug-in vehicles will in future become more popular and pose a genuine alternative to petroleum cars.
But he cautions that the "revolution" of electric vehicles will take time and it was unrealistic to believe the hype of 2010 would be delivered by now.
Copyright Press Association 2014