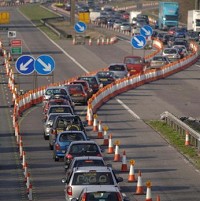 A coach ended up in a motorway-side ditch after crashing and overturning on Tuesday morning.
All 50 passengers aboard escaped serious injury in the one-vehicle accident on the southbound Dursley, Gloucestershire stretch of the M5 (junctions 13-14) just before 10am.
There have been reports of the minor casualty count reaching seven, with the coach driver himself sustaining back injuries.
Motorists have been advised to re-set their journey planners away from the affected southbound area, which was shut by Highways Agency officials soon after the incident.
The coach passengers have been offered alternative transport to take them from the crash area.
The seven casualties are being evaluated at the scene of the crash as to whether they require hospital treatment. They have been called "walking wounded" by a local ambulance spokesman, who said the service was called at 9.58am.
Police say the coach left the motorway and no other vehicle was involved.
Copyright Press Association 2014