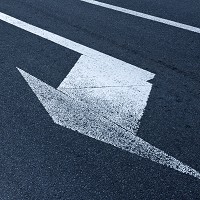 A new survey by the Road Safety Markings Association (RSMA) shows that around half of the white line road markings on Britain's major highways need replacing immediately or in the near future.
On a 2,500-mile survey of roads in England, just 16% of markings were classified as "excellent" according to the survey.
"It is shameful that half of the markings on roads in England are so worn out that they need to be replaced," said George Lee, RSMA national director.
Over half of the markings on motorways (52%); 42% of those on dual carriageways and 48% on single carriageways need to be replaced immediately.
Only 13% of road markings on single carriageways fall into the "excellent" category.
RAC spokesman Simon Williams said: "Not only are our roads riddled with potholes, now there's good evidence that vital road markings have worn away and need replacing. It makes you wonder whether things can get any worse for motorists who pay well over £45bn to the Government in taxation. Surely that gives every motorist the right to drive on roads that are fit for purpose.
"The safety of everyone using our roads should be paramount, but sadly we seem to have reached a situation where we are struggling to bring a dilapidated road infrastructure back up to standard."
A stretch of the M3 between Bagshot and Camberley in Surrey had the lowest rating, with 94% of markings in need of replacement or scheduled for repainting.
The A34 between Kidlington and Bicester in Oxfordshire scored the best rating from RSMA, with 99% of road markings categorised as "excellent".
"Despite continuing to give assurances of their commitment to road safety, those responsible for the upkeep of our roads continue to neglect the most cost-effective safety device available to road engineers, the white line," Mr Lee said.
"It is shameful that half of the markings on roads in England are so worn out that they need to be replaced. These markings have already been paid for because we, as taxpayers, are paying to have the roads maintained properly, including the markings, and this is just not happening. The robust evidence in our survey and in this report proves this to be the case."
Copyright Press Association 2014