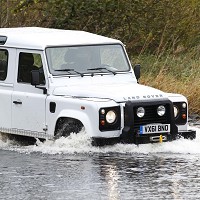 Police are urging owners of Land Rovers and other 4x4 vehicles to be extra vigilant as the recent spell of bad weather has increased demand for these "weatherproof" vehicles, leading to a surge in the number of thefts reported.
Officers in Derbyshire, for example, said that 12 Land Rover vehicles alone were stolen in their region between November 2013 and January 2014.
They said increased demand from honest car buyers in the UK has led criminals to take advantage of the situation by stealing desirable Land Rovers or other 4x4s and then selling them on to unsuspecting buyers.
Adrian Davenport, a police liaison officer for stolen vehicle specialist recover firm Tracker, said: "We have already recovered a record 38 4x4 vehicles that have been stolen over the last two months.
"However, we encourage all vehicle owners to ensure they make it difficult for thieves, by taking precautions and investing in the right security measures."
Copyright Press Association 2014