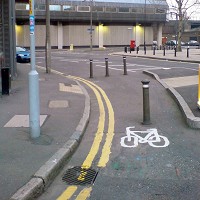 A total of £440 million is being invested in green transport.
The Government will contribute £64 million towards eco-friendly schemes, which ministers say will be good for the environment as well as the economy and help improve the nation's health.
Among the benefits provided by the schemes will be improved infrastructure for pedestrians and cyclists, a higher standard of bus journeys and a modernisation of transport interchanges, making it simpler for people to switch modes of transport.
In addition to the £64 million being invested by the Department for Transport as part of its Local Sustainable Transport Fund, Local Enterprise Partnerships will contribute more than £100 million.
Transport minister Baroness Kramer says the new investment will make it easier for millions of people to choose to travel in an environmentally-friendly way that also benefits the economy and boosts public health.
All the schemes will include efforts to get more people cycling through methods such as more cycle hire opportunities, improved maintenance of bikes and the creation of new and improved cycle hubs.
Copyright © Press Association 2014
Copyright Press Association 2014