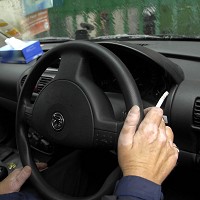 Over 430,000 children in England breathe in fumes every week from people smoking in cars, the British Lung Foundation says.
The charity has used NHS data to work out the "shocking" figure for children aged between 11 and 15. It also says 185,000 of them inhale smoke "most days" while in the family car.
Director of research Dr Noel Snell says the data "clearly highlights" how much kids are still having to breathe in harmful second-hand smoke in vehicles. He said more than half a million children each week could be being harmed if age groups not even covered by this data are taken into account.
"Since the BLF began its campaign in 2010, we've had overwhelming support - including the House of Lords who have previously voted in favour of a ban. We hope that these findings will further encourage them to show their support," he added.
Peers are about to debate a change to the Children and Families Bill that would ban smoking in cars with youngsters inside.
On the other side of the argument, Forest says making a law would be "disproportionate to the problem". Director of the pro-smoking organisation Simon Clark said most adults now see it as "inconsiderate" to light up in vehicles if children are present.
"According to surveys, only a very small number of adults still smoke in cars with children present," he said.
Copyright Press Association 2013