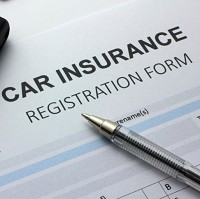 Motorists are warned they will be found out if they try to give false information to car insurance companies.
The industry's official body says more than 4,000 fraudulent car insurance polices were uncovered every week last year.
The Association of British Insurers (ABI) says that cutting corners in a bid to lower premiums is simply not worth the risk.
It can result in criminal records, heavy fines and the possibility of driving uninsured.
Frequent ruses include pretending to live in lower-risk neighbourhoods by giving a friend's address, and not declaring previous accidents.
Another deception is "fronting".
This is where motorists pretend to be the primary driver on a policy when it is really their child, who would stand to pay far higher premiums.
The Association finds that 2014 saw 212,000 unlawful insurance policies - the equivalent of more than 570 each day.
The Government has been trying to clampdown on motor insurance fraud, this spring introducing medical expert whiplash tests to validate claims.
Last December the first 18 months of the campaign revealed that drivers were benefitting from a 7% drop in premiums as a result.
The ABI's Mark Allen says the widespread emergence of comparison websites to find the best deals means there really is no point in taking a risk by falsifying insurance details.
The Association's financial and fraud crime manager says huge "financial headaches" and "criminal records" will result if a shunt uncovers such discrepancies.
The ABI is also warning motorists against so-called "ghost brokers".
These are operators which occasionally claim to offer cheap car insurance deals which do not really exist, however legitimate they seem.
The drivers they "cover" are liable to breaking the law too - often unwittingly and are motoring with no legally-binding vehicle insurance.
The Association warns that these people's motors could be crushed or confiscated.
Insurance Fraud Bureau officials are currently investigating 26 alleged ghost broker fraud cases.
Copyright Press Association 2015
https://www.abi.org.uk/ (Association of British Insurers)