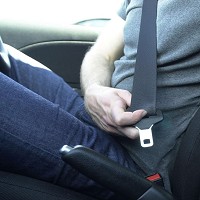 Britain's road safety minister has called on motorists and their passengers to "belt up" - 30 years to the day after it became law for all drivers to use the safety device.
Stephen Hammond said although the vast majority now used seatbelts, there were, "unbelievably", still some who didn't.
"My message to them is simple," the minister said, "a seatbelt could save your life and not wearing one is just not worth the risk."
Car makers have been installing seatbelts since 1965 and on January 31 1983 it became compulsory for all drivers to use them. They are thought to save some 2,000 lives every year.
Mr Hammond said "countless" injuries - and subsequentcar insurance claims - had also been prevented down the decades thanks to hard-hitting public awareness campaigns and effective enforcement which had made the use of seatbelts second nature for most drivers and passengers even when travelling only short distances.
The Government has made a selection of historicTHINK! adverts available online to mark today's anniversary.
Copyright © Press Association 2013