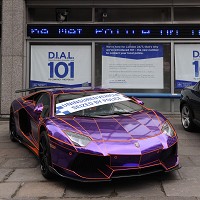 A £300,000 Lamborghini sports car could be heading for the crusher after it was seized by police in London.
The distinctive Lamborghini Aventador was picked up on Wilton Place in Knightsbridge after the driver was found behind the wheel without car insurance .
It is currently on display outside New Scotland Yard as officers weigh up what to do.
The high-performance car was seized as part of Operation Cubo, which has so far been run on 20 separate days and led to 656 vehicles being seized on one day in June.
On that occasion some 135 arrests were made in relation to various offences, such as robbery, metal theft, supplying drugs, weapons offences and being wanted offenders.
A total of 10,318 vehicles have been seized as part of the operation since October 2011.
A Met Police spokesman said of the wide range of cars they have seized: "We have had a few Porsches, BMW X5s and a Ferrari - that one got crushed and in fact the vast majority of them are."
Copyright © Press Association 2013